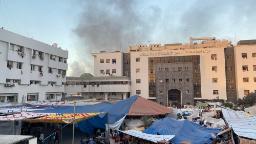 Israel's war cabinet approved a measure on Friday allowing two fuel tankers a day to enter Gaza for water and sewage system support, according to Israel's national security adviser.
Those systems are "on the verge of collapsing, considering the lack of electricity and ability to operate the sewage and water systems," Tzachi Hanegbi said in a Friday briefing.
The deliveries will amount to 140,000 liters of fuel entering Gaza every 48 hours, a US State Department official told CNN.
The vast majority will be deposited into a depot in Rafah, where — in addition to the water and sewage uses — it will be used by United Nations relief agency trucks and for waste disposal, bakeries and hospitals in southern Gaza, according to the US official.
A smaller portion, about 20,000 liters every 48 hours, will be used to power Paltel generators for cell phones and internet, the official said.
In consulting with the Israel Defense Forces and Israel's International Security Academy about whether the decision damaged operational objectives or supported Hamas, the answer "was that the American request can be accepted," Hanegbi said. 
The decision to allow two fuel tankers per day into Gaza, "was taken due to (Israel's) willingness to avoid the spread of pandemics," Hanegbi added.
"We don't need pandemics that might hit civilians there, our combat troops, and if there will be pandemics, the fighting will cease. We will not be able to continue fighting under the conditions of a humanitarian crisis and a global outcry."
The decision, which was reported by Israeli media earlier on Friday, has already been criticized by members of the Israeli government. 
Israeli Finance Minister Bezalel Smotrich sent a letter, which he also released on X, to Israeli Prime Minister Benjamin Netanyahu asking for the policy to be reversed and for the government to continue to prevent fuel from entering the Gaza Strip.
"That decision is extremely odd. This decision is a spit in the face of IDF soldiers, bereaved families, the hostages and their families," Smotrich said. "This is not how you win a war, that's not how you destroy Hamas and that's not how we'll return the hostages."
Remember: While some aid has reached Gaza through Egypt, those deliveries included food, water and medicine – but not fuel. Israel had refused to allow fuel to enter Gaza since Hamas' brutal October 7 attack, saying it would only be used by the militant group to fuel its fight against Israel.
According to the UN Relief and Works Agency for Palestine Refugees in the Near East (UNRWA), roughly 70% of people in Gaza are now drinking "salinized and contaminated" water. Raw sewage has also started flowing through the streets in some areas as UN waste disposal systems are also impacted by the fuel shortages.
Allowing fuel to enter Gaza was a key topic of US Secretary of State Antony Blinken's meetings in Tel Aviv earlier this month. In the two weeks since, the US had been pushing Israel to actually make it happen, according to an official. The Israeli government delayed in part because it claimed there was still fuel in southern Gaza, and it had also tied the fuel issue to that of hostages held by Hamas. The US did not see the two issues as being linked, the official said, noting that Hamas does not care about the humanitarian plight of the people of Gaza.
This post has been updated with further details on the fuel deliveries from a US official.
CNN's Jennifer Hansler contributed reporting to this post.